Cuisine
Swan Club On The Harbor has continually set new standards for innovative cuisine. Work with our Chef and his team, along with our experience Banquet Managers, to create the perfect menu for your affair. We take great pride in providing memorable dining experiences by preparing and flawlessly presenting gourmet fare to your guests. Our skilled culinary staff knows how to put an individual imprint on every menu and can create a signature cocktail or specialty dessert developed to your personal tastes – and served exclusively at your event.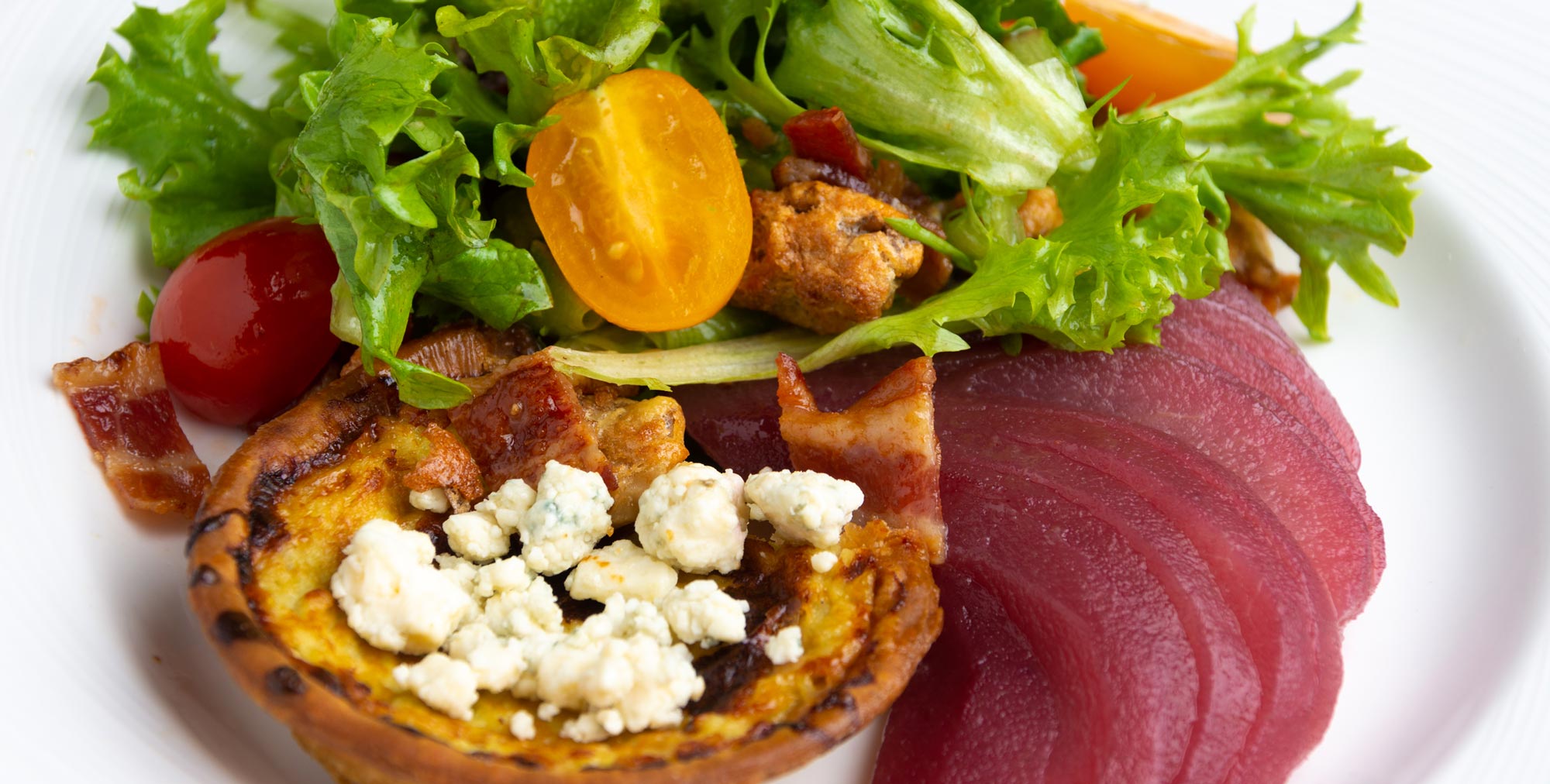 "The food was over the
top and every detail
was perfected."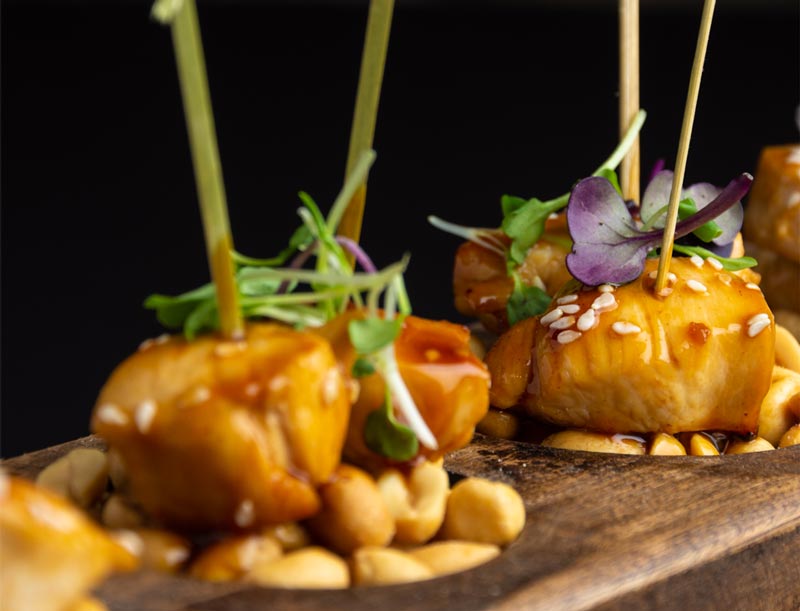 "Wonderful staff and
scenery and the
food was AMAZING!!"
Swan Club On The Harbor knows all the ingredients for a memorable wedding, and we strive to ensure that your celebration will be distinguished by innovative cuisine, beautifully-presented, with an abundance of choice. All wedding menus include personalized reception selections from an extensive array of hors d'oeuvres, specialty foods, and carving stations. For your wedding dinner, guests are served restaurant-style, with guests selecting from eight main course choices, which are all prepared to order; our menus include multiple vegetarian options, and our culinary team stands ready to respond to any other special needs or requests.
Butler Passed Hors d'Oeuvres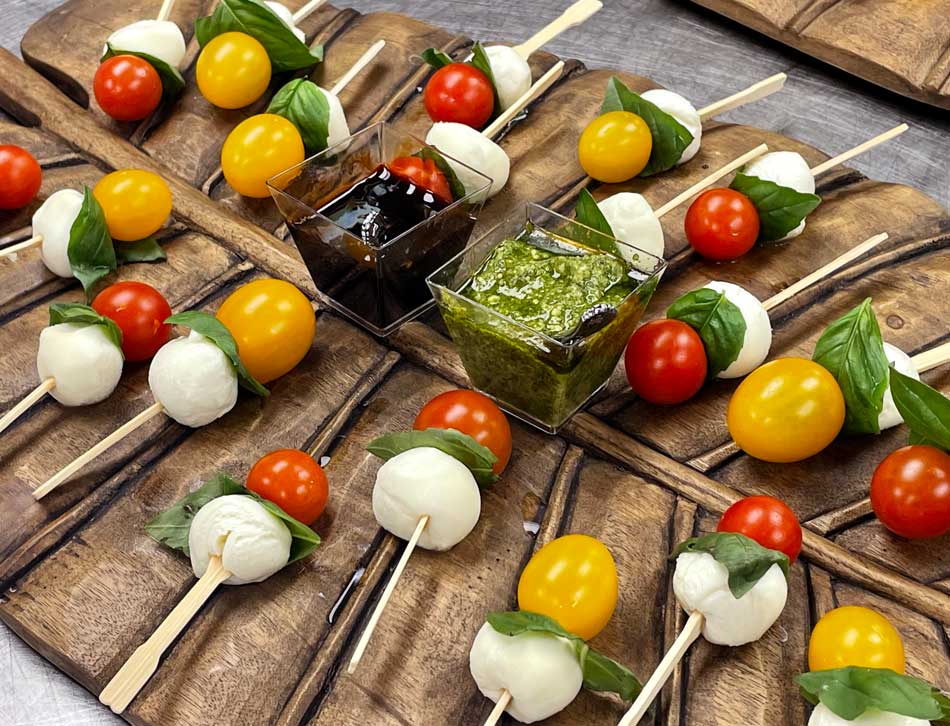 Tomato Mozzarella Basil, basil pesto &
balsamic glaze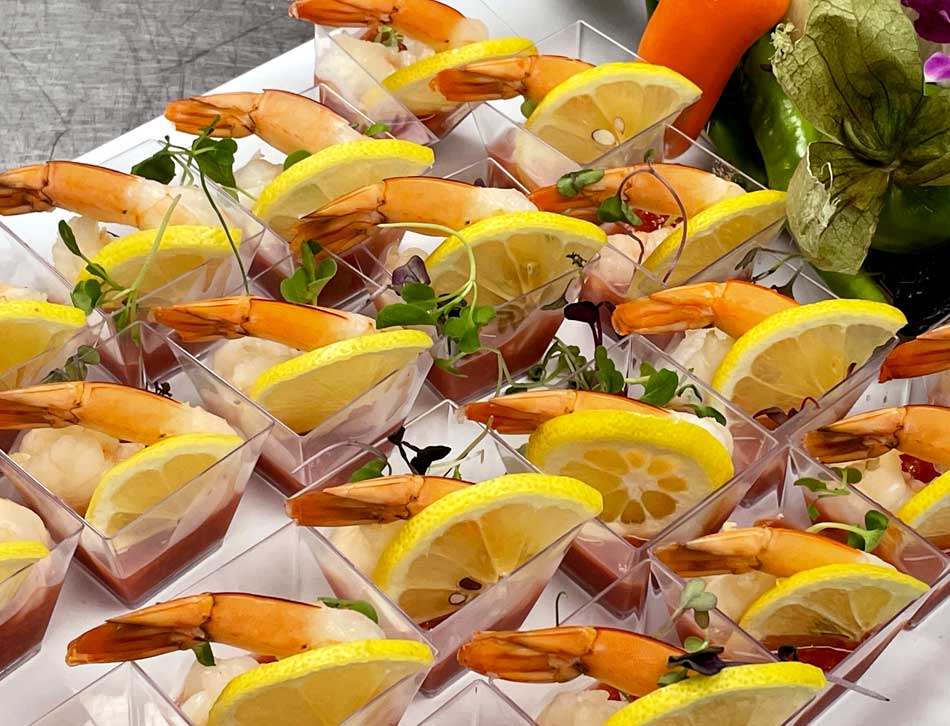 Bloody Mary shrimp cocktail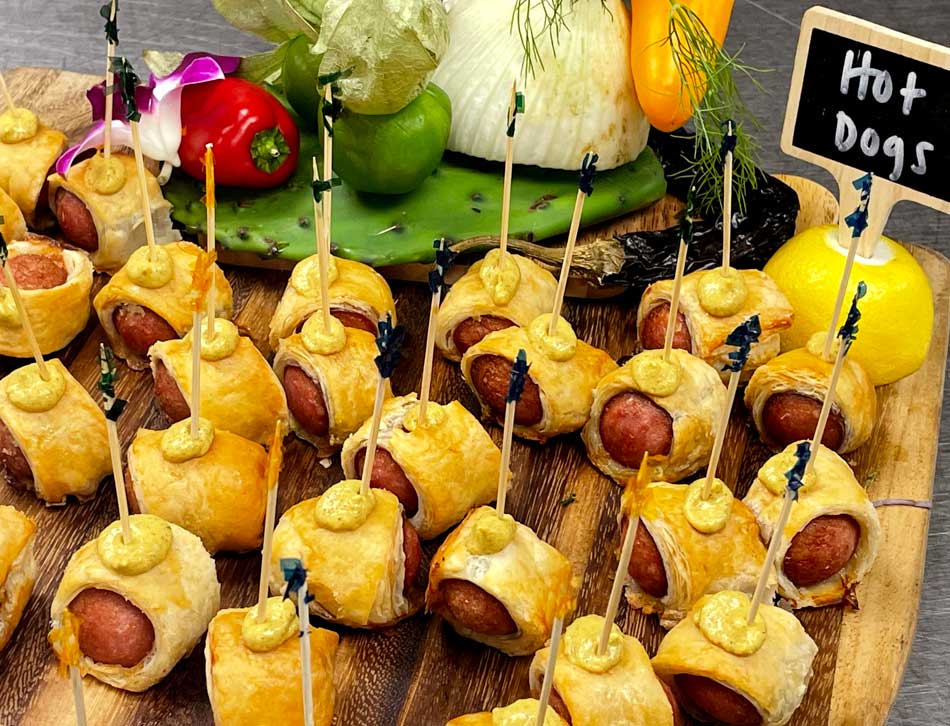 Phyllo wrapped cocktail franks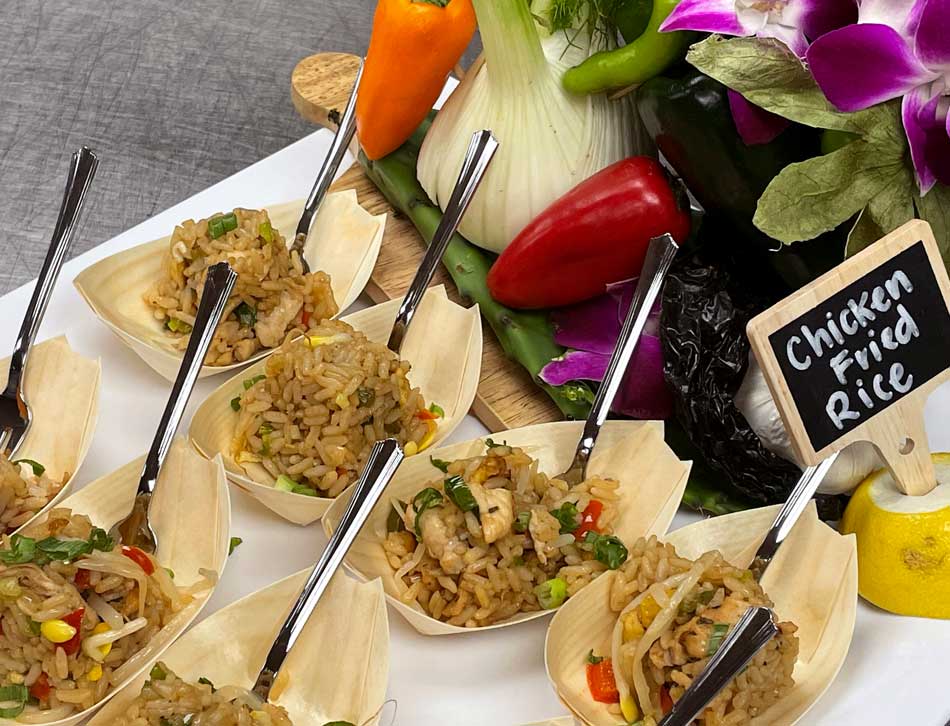 Chicken fried rice
"The grounds, the food,
the ambience, everything
is perfect."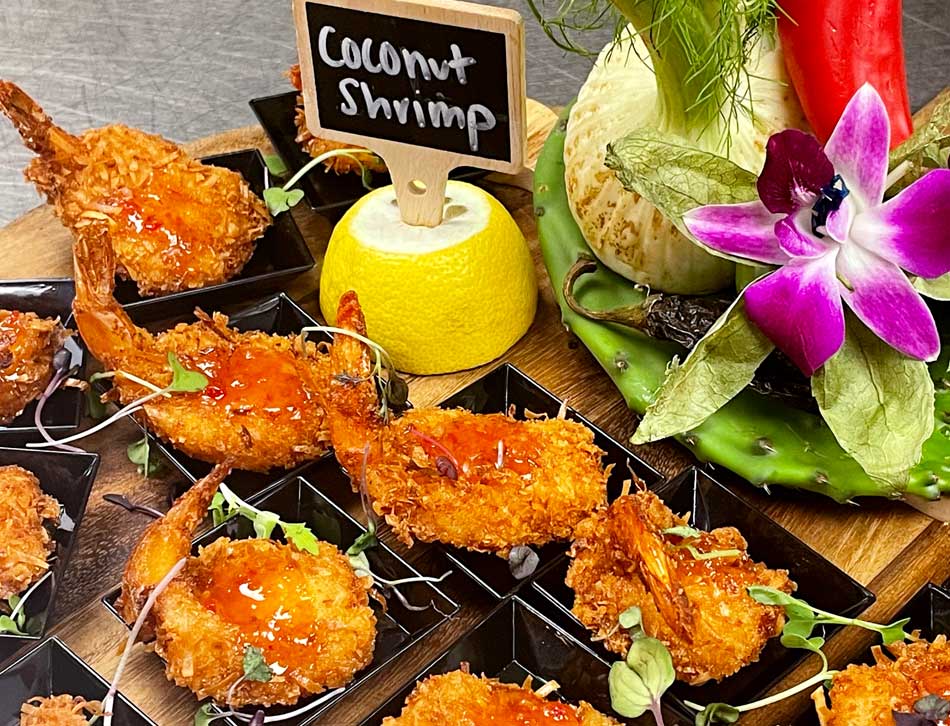 Coconut shrimp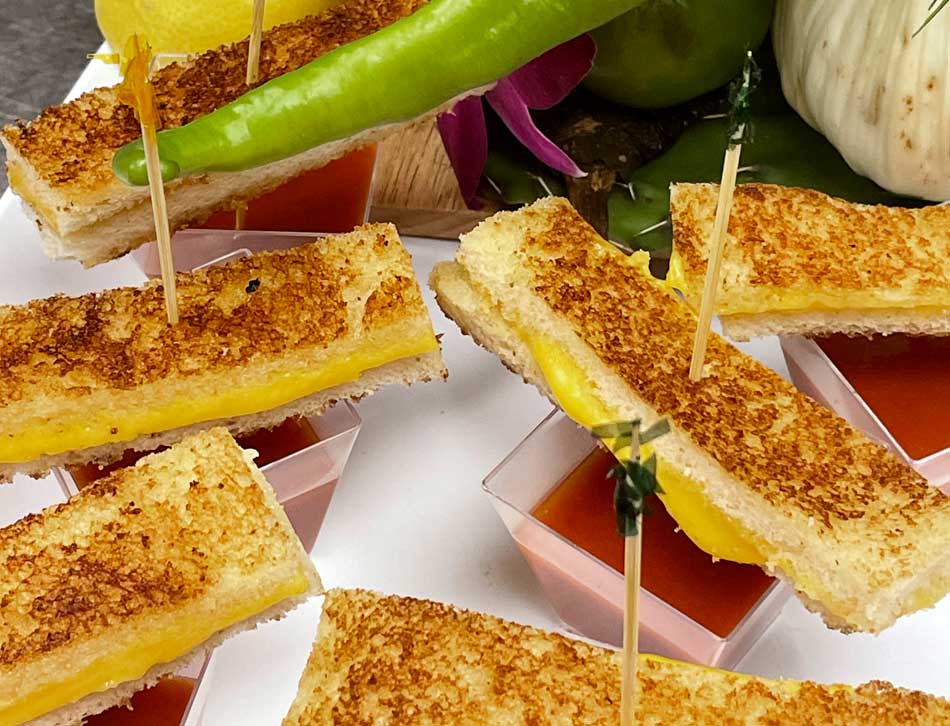 Grilled cheese & tomato soup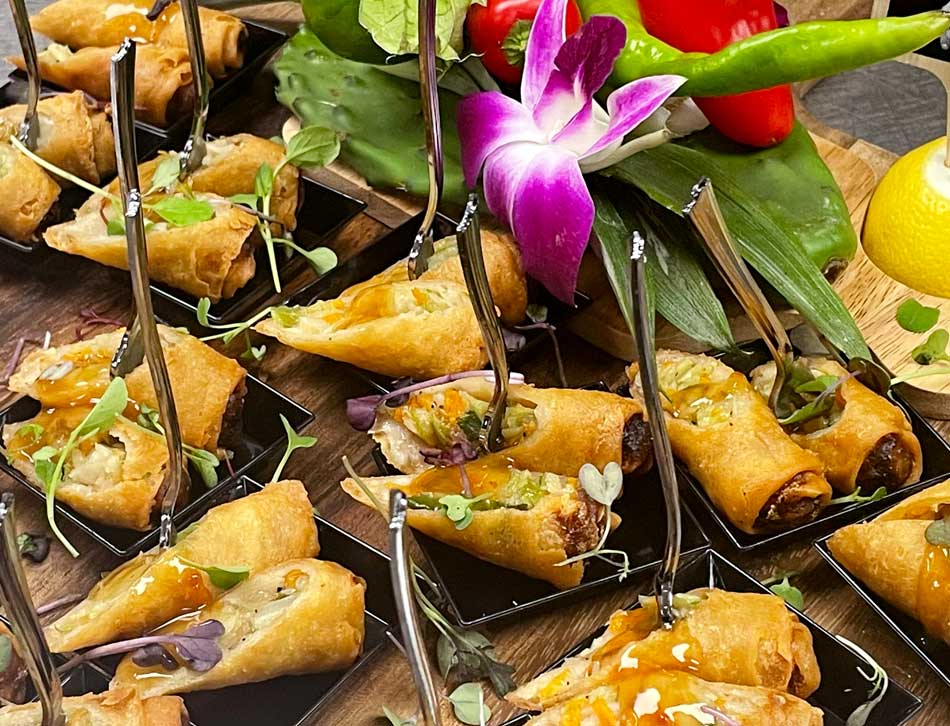 Spring rollS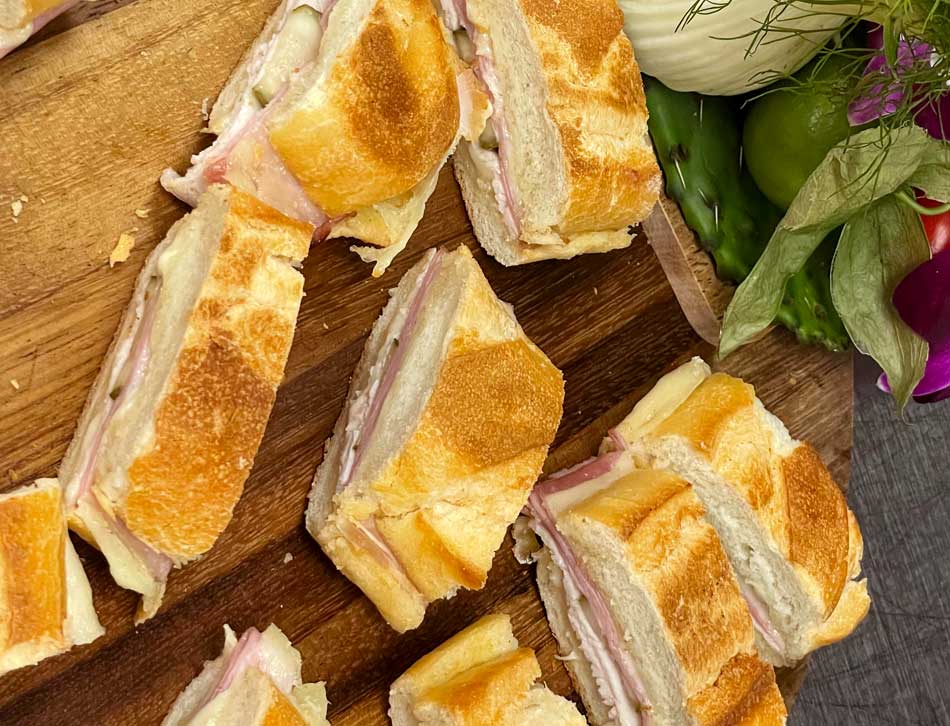 Mini Cubanos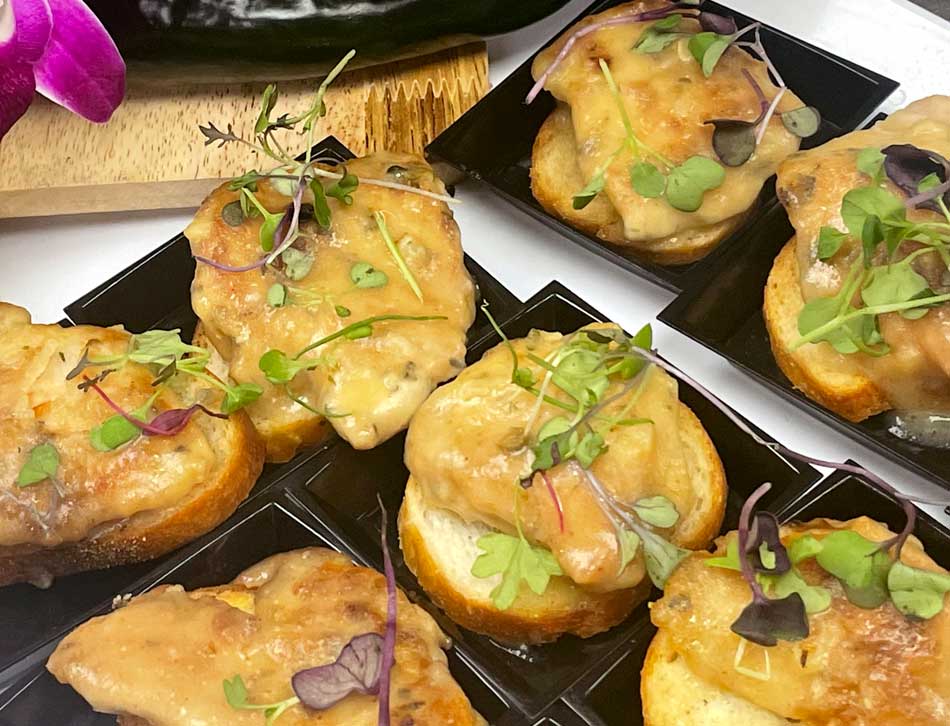 Chicken picatta toasted crostini
"The food is out of
this world."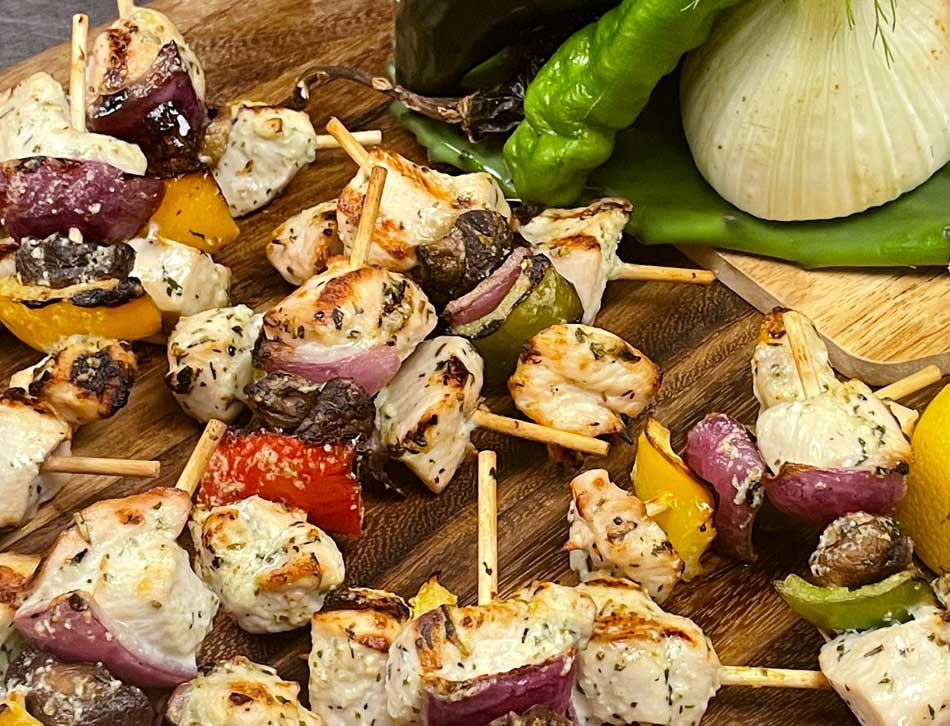 Grilled Mediterranean chicken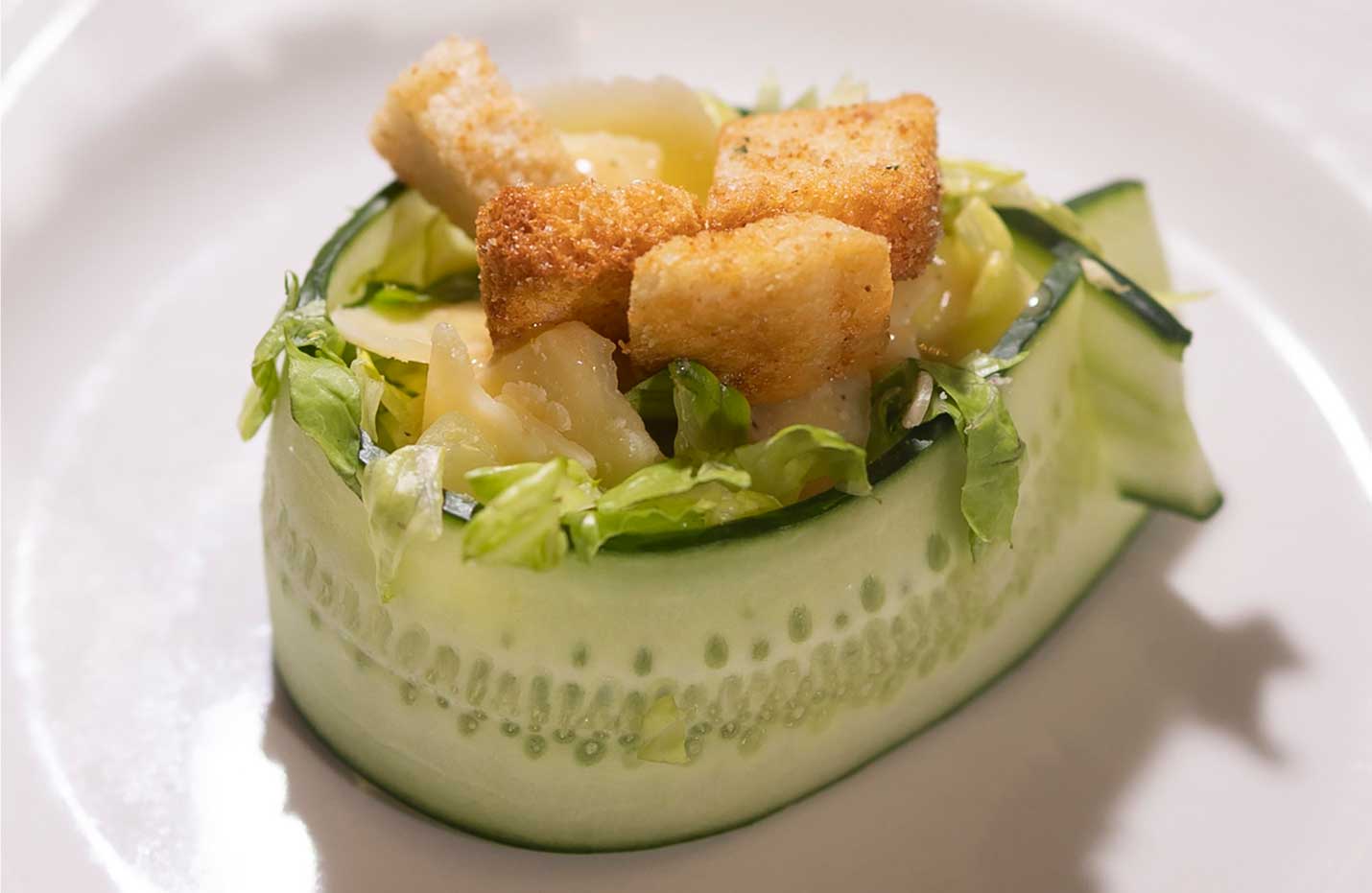 CAESAR SALAD, Classic Caesar with Romaine Hearts, Crispy Croutons, Home-made Caesar Dressing, Shaved Parmigiano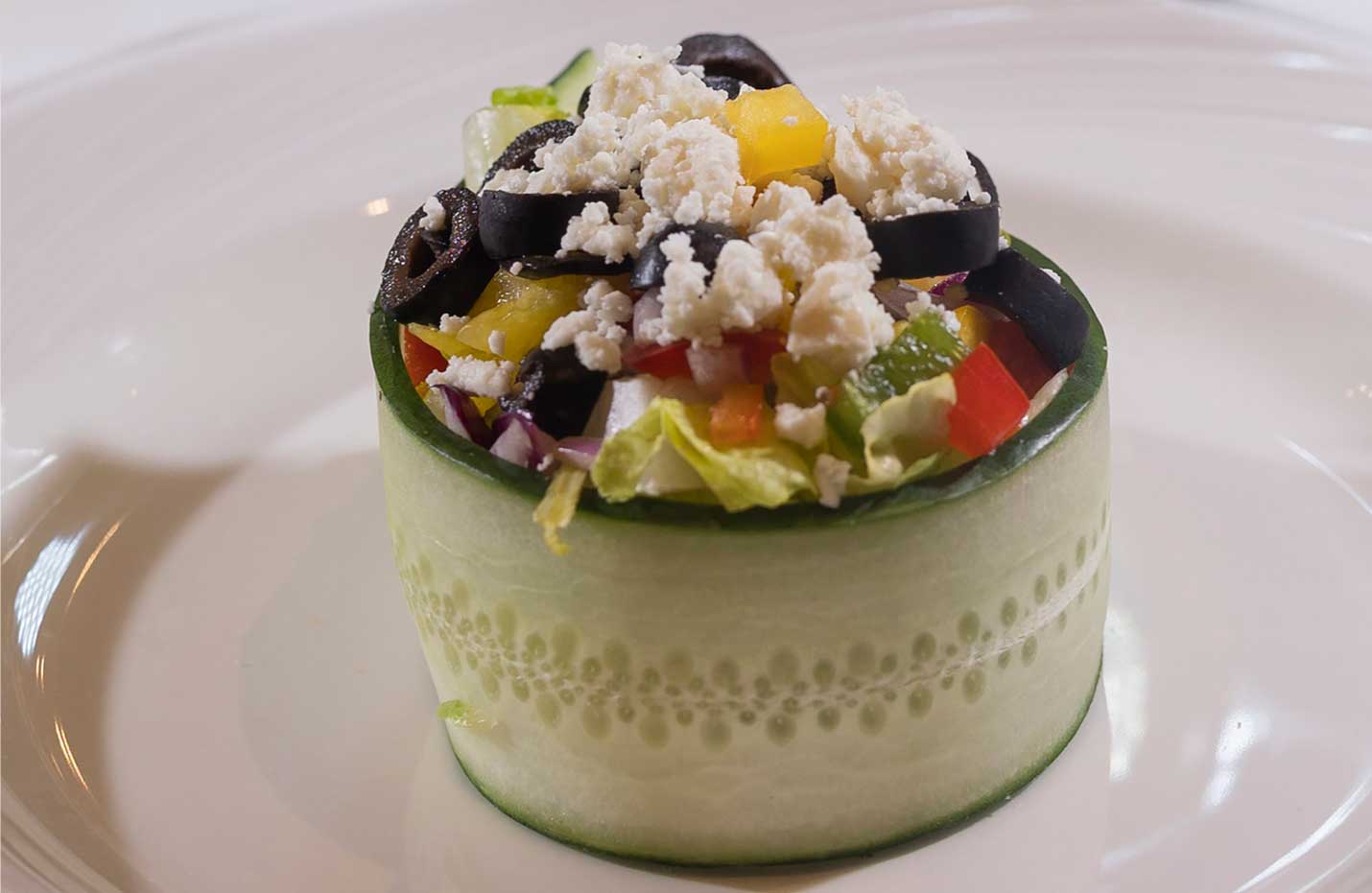 GREEK SALAD, Baby Romaine Wedge, Cucumbers, Tricolor Peppers, Kalamata Olives, Feta Crumbles, Red Onions, Tomato, Greek Style Red Wine Vinaigrette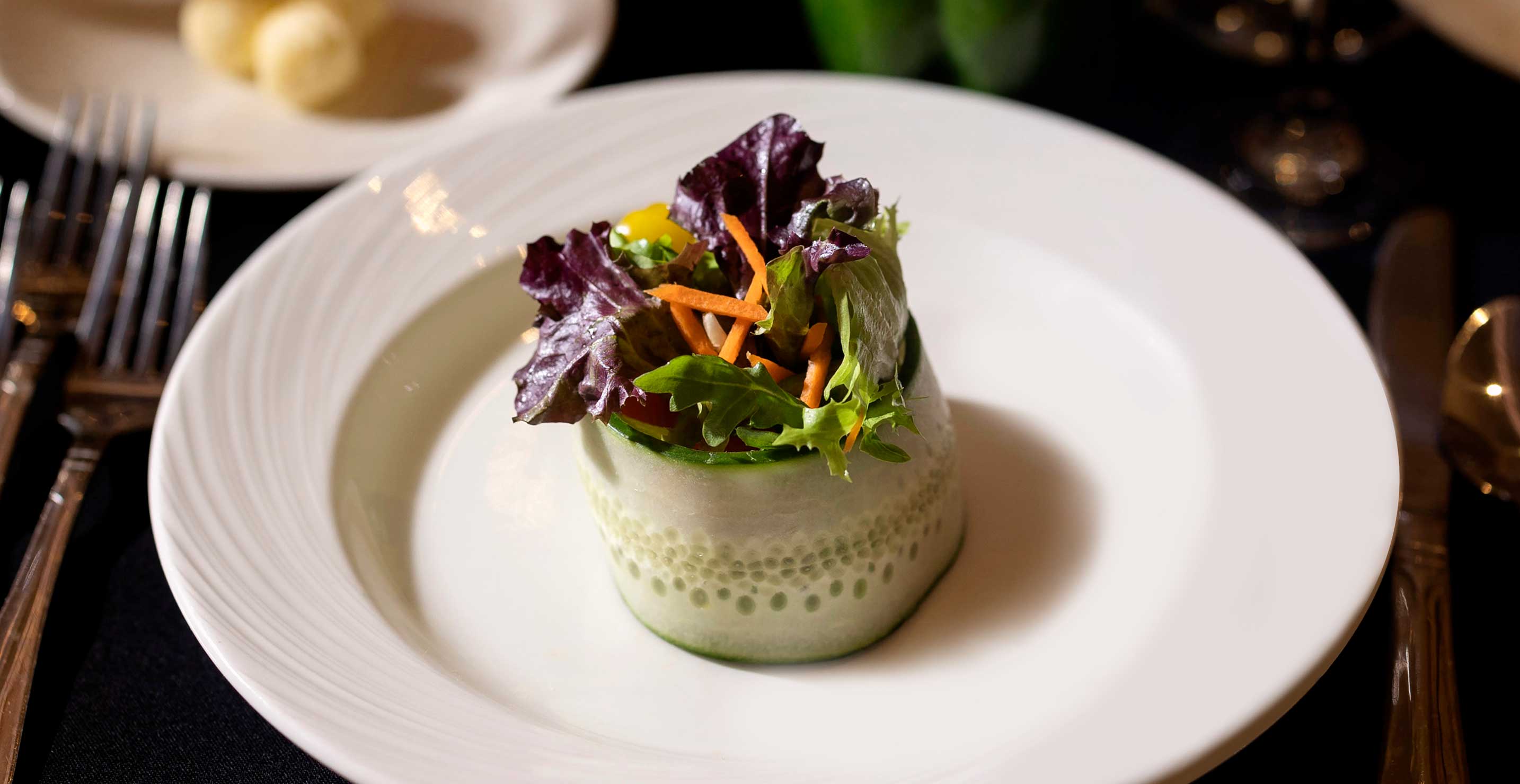 FIELD GREEN SALAD, Mesclun Greens, Cucumbers, Grape Tomatoes, Julienne Carrots, White Wine Herb Vinaigrette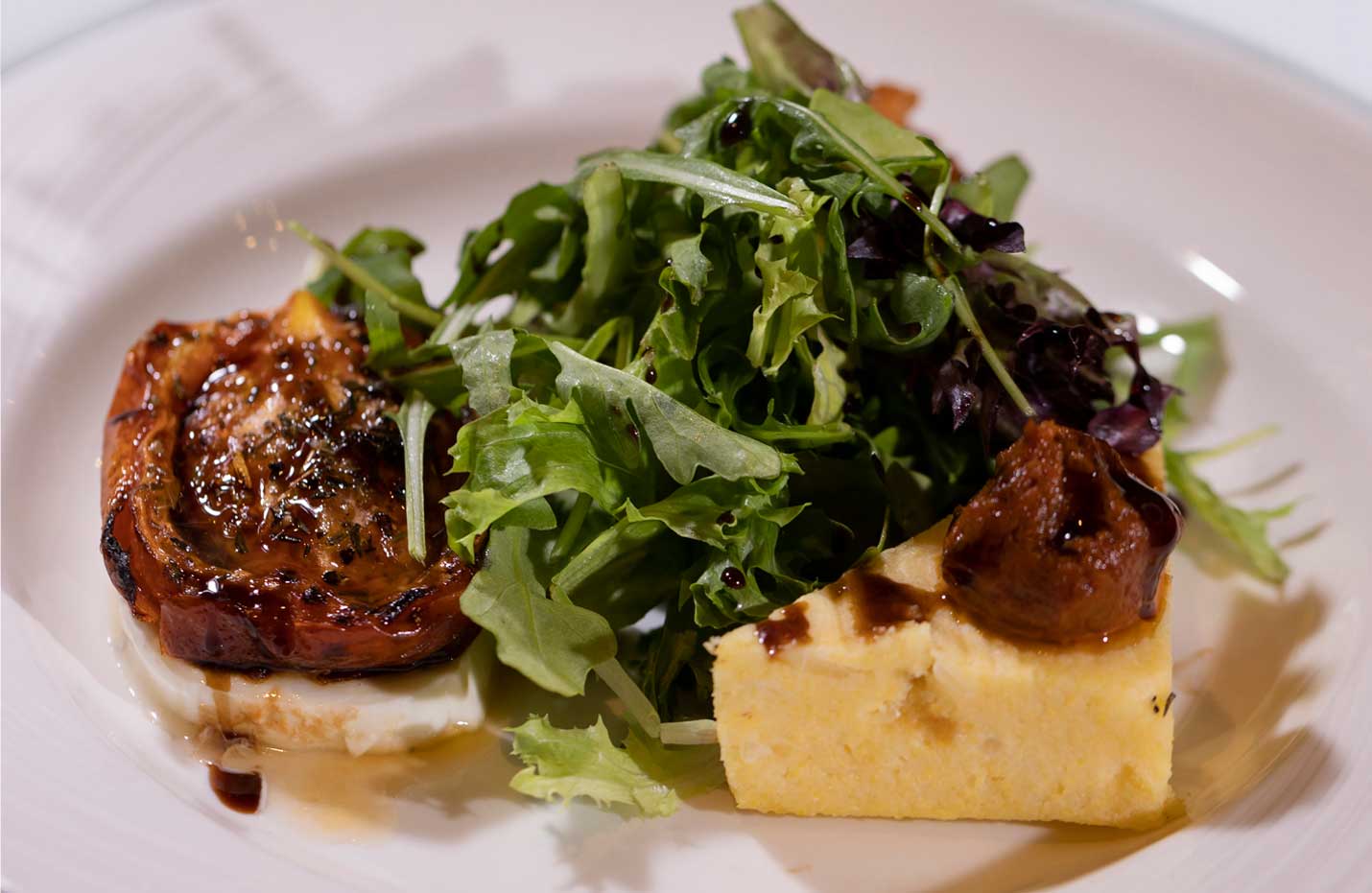 TRADITIONAL ANTIPASTO, Fresh Mozzarella, Balsamic Roasted Plum Tomato, Baby Arugula Salad, Eggplant Caponata, Sun-Dried Tomato Pesto and Parmesan Polenta, Drizzled with Balsamic Reduction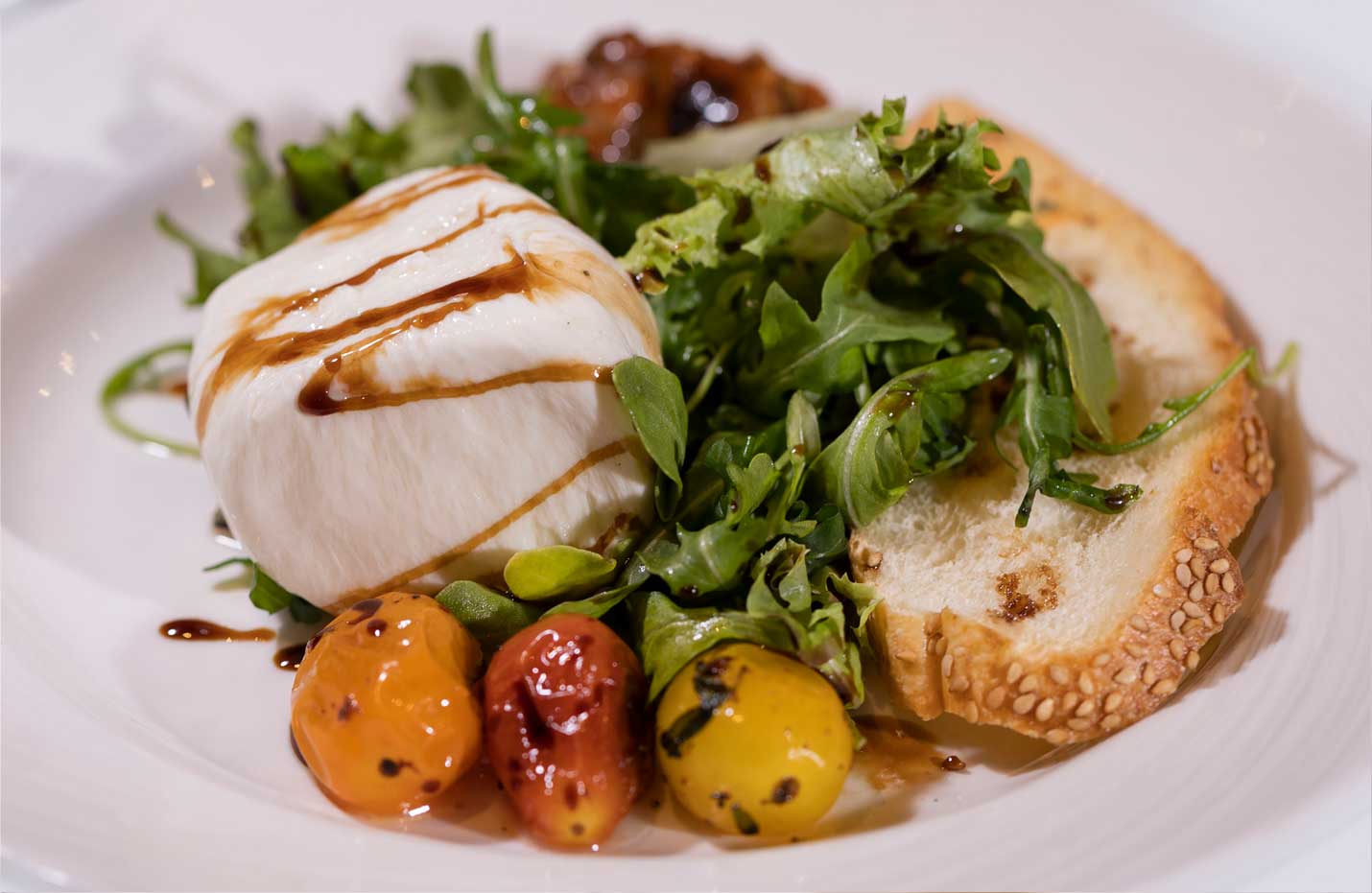 BURRATA, Fresh Burrata, Baby Arugula, Blistered Tomato, Herb Crostini, Eggplant Caponata, Balsamic Reduction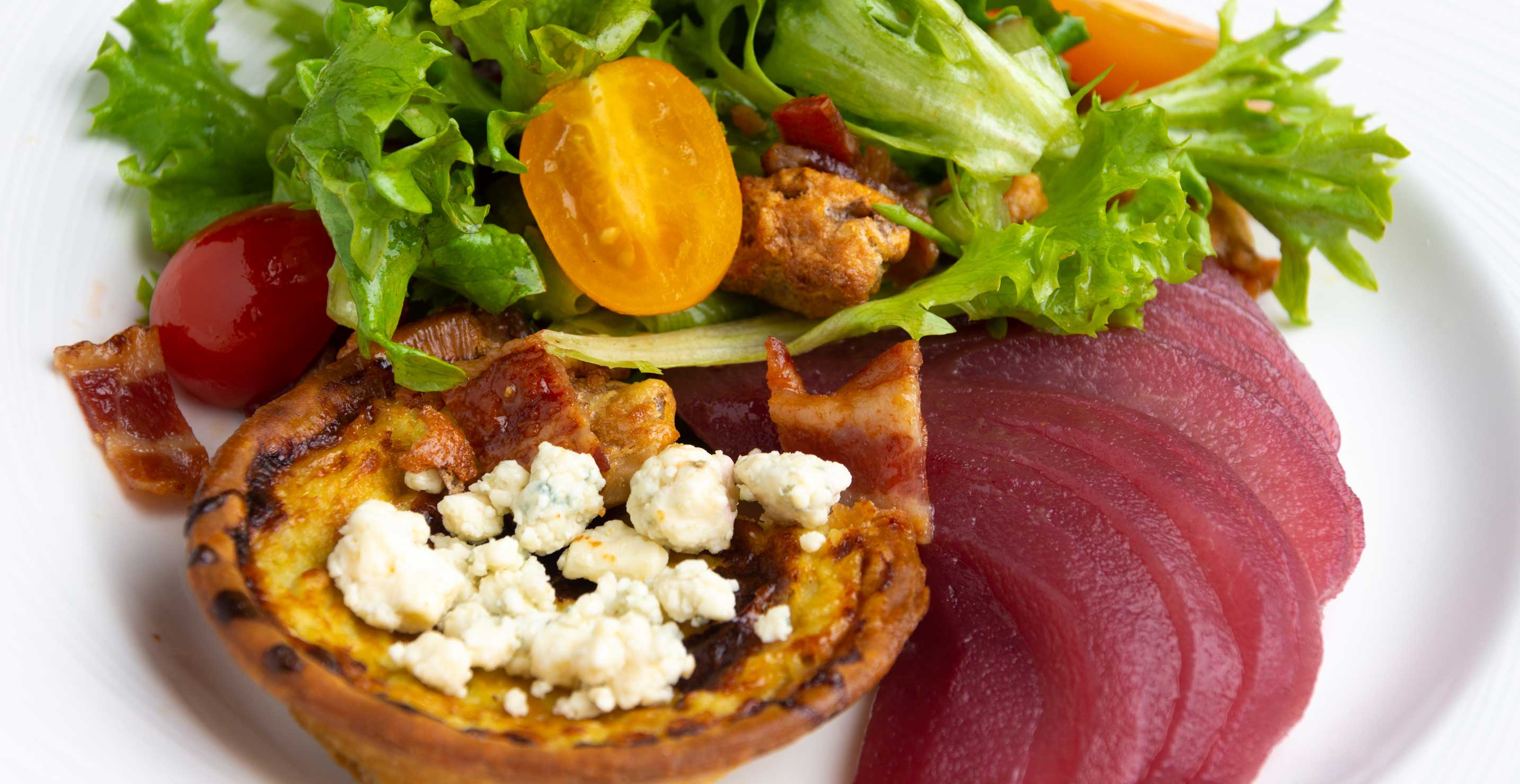 POACHED PEAR SALAD, Port Wine Poached Pear, Baby Mesclun Salad, Crumbled Goat Cheese, Julienne Carrots, Champagne Vinaigrette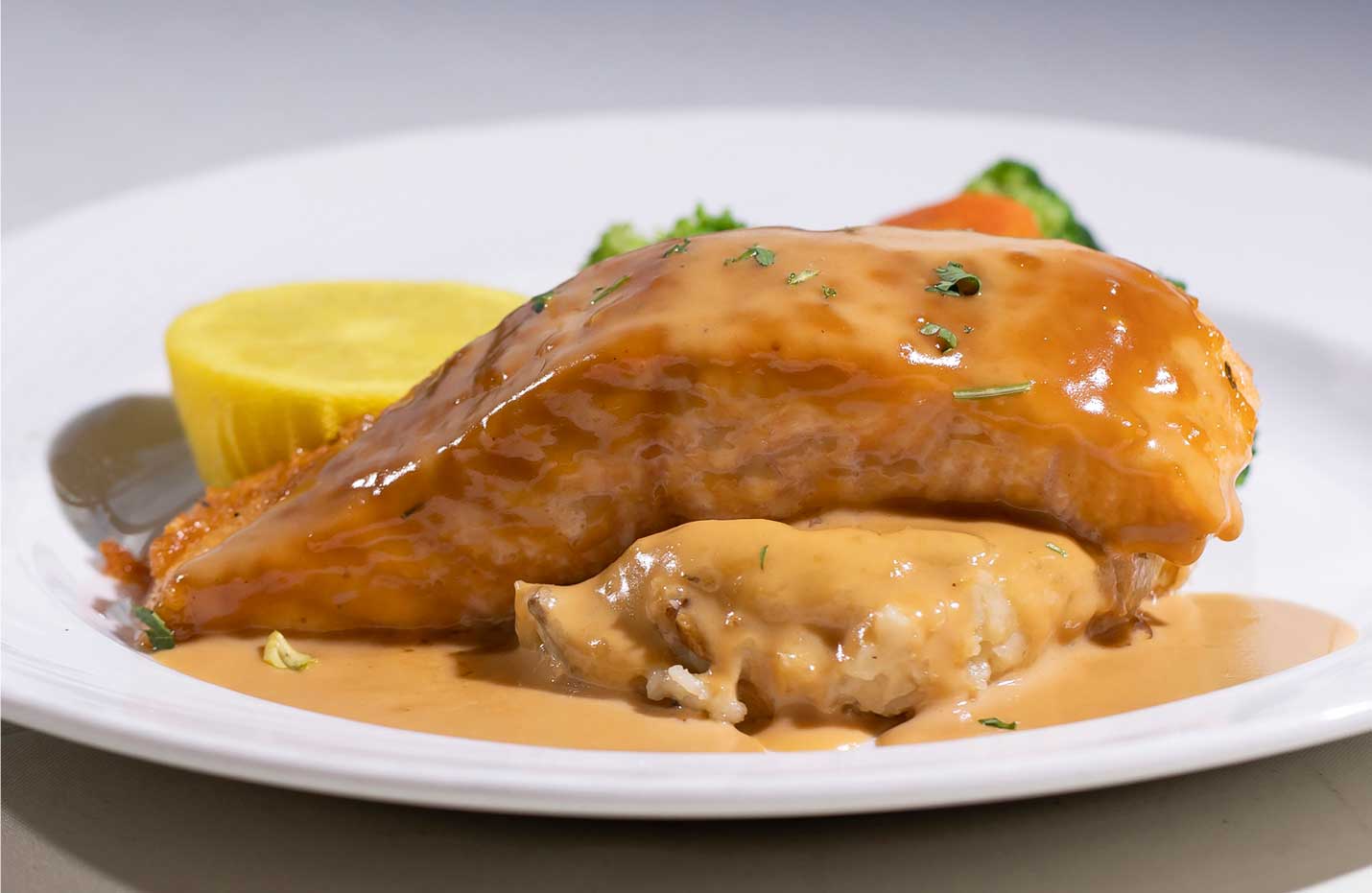 MISO HONEY GLAZED ATLATIC SALMON, Served with a Ponzu Beurre Blanc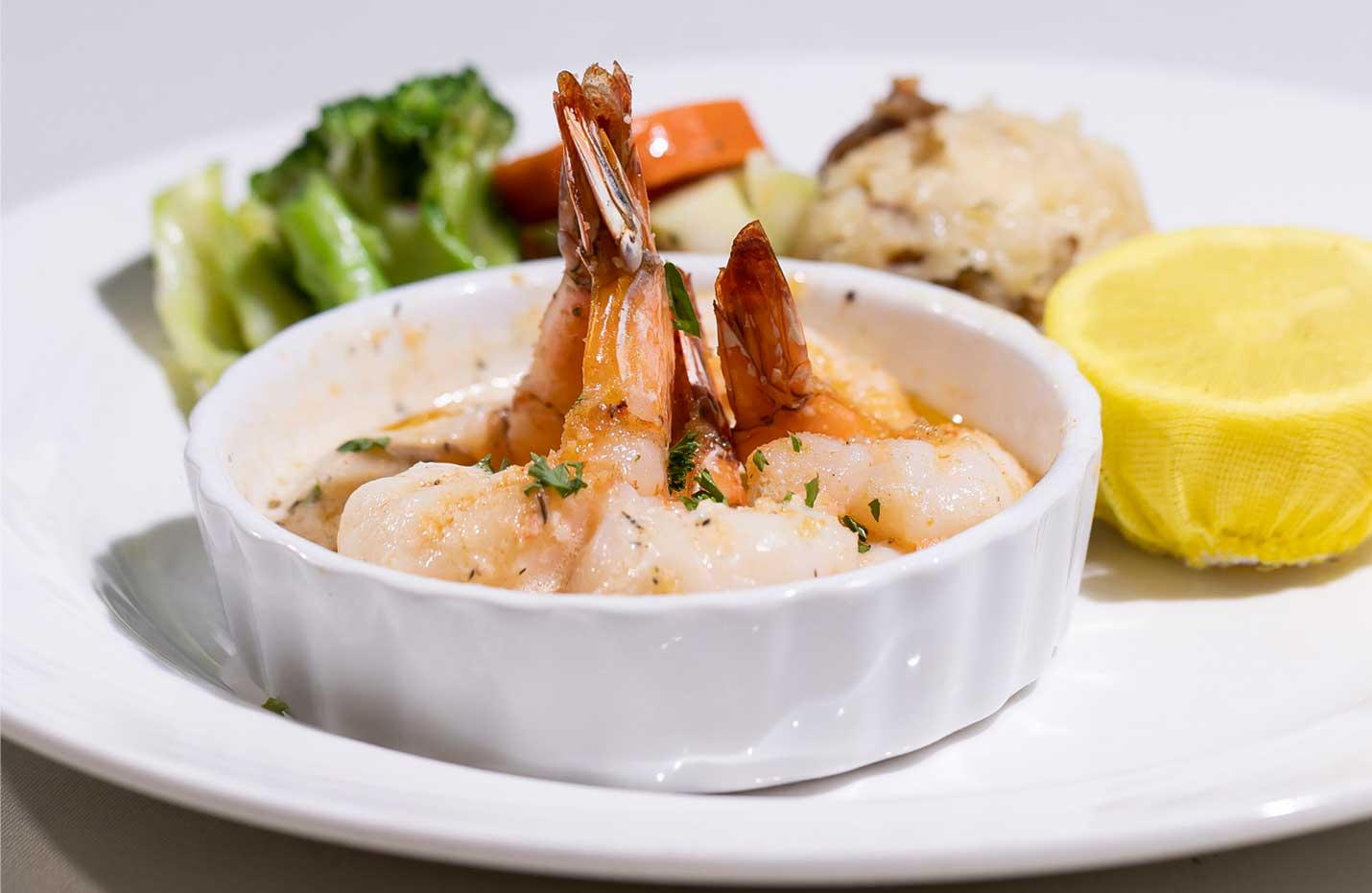 SHRIMP SCAMPI, Jumbo Shrimp Sautéed with Garlic Butter in a White Wine & Garlic Sauce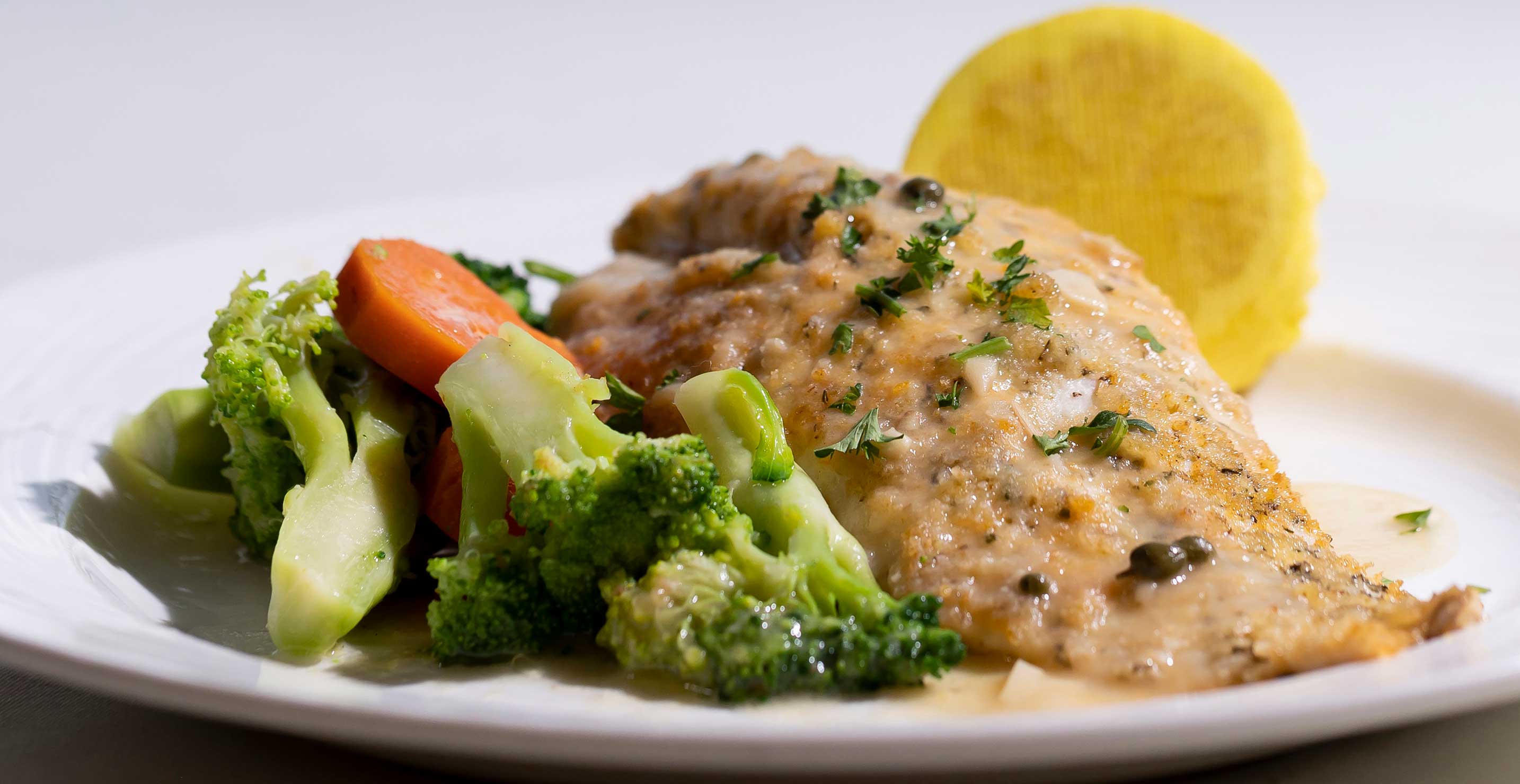 MEDITERRANEAN BRANZINO, Oven Roasted Branzino Filet with Lemon, White Wine, Fresh Garlic, Rosemary & Capers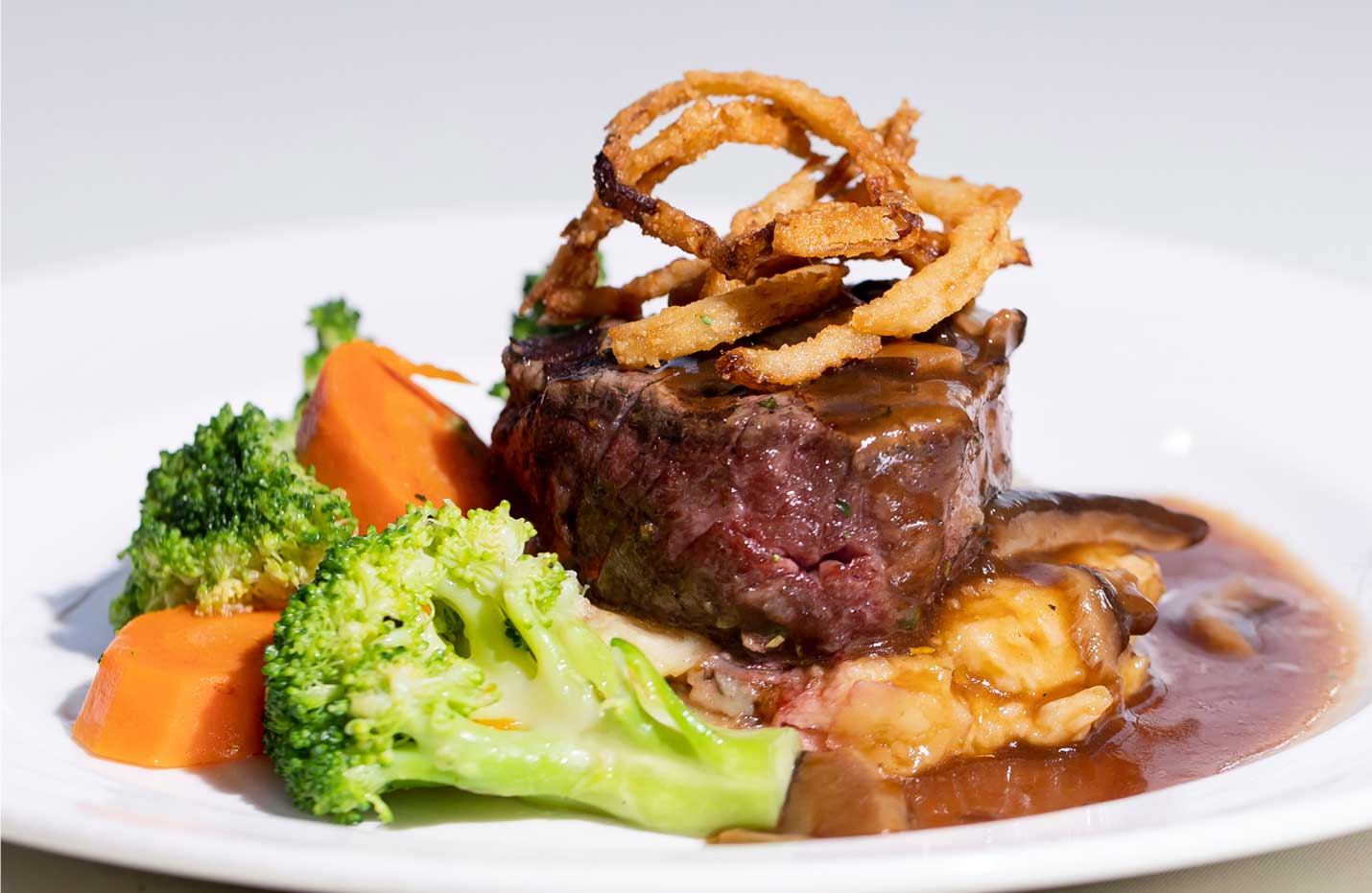 GRILLED CERTIFIED ANGUS CENTER CUT FILET MIGNON, Wild Mushroom & Shallot Demi-Glace Topped with Crispy Frizzled Onions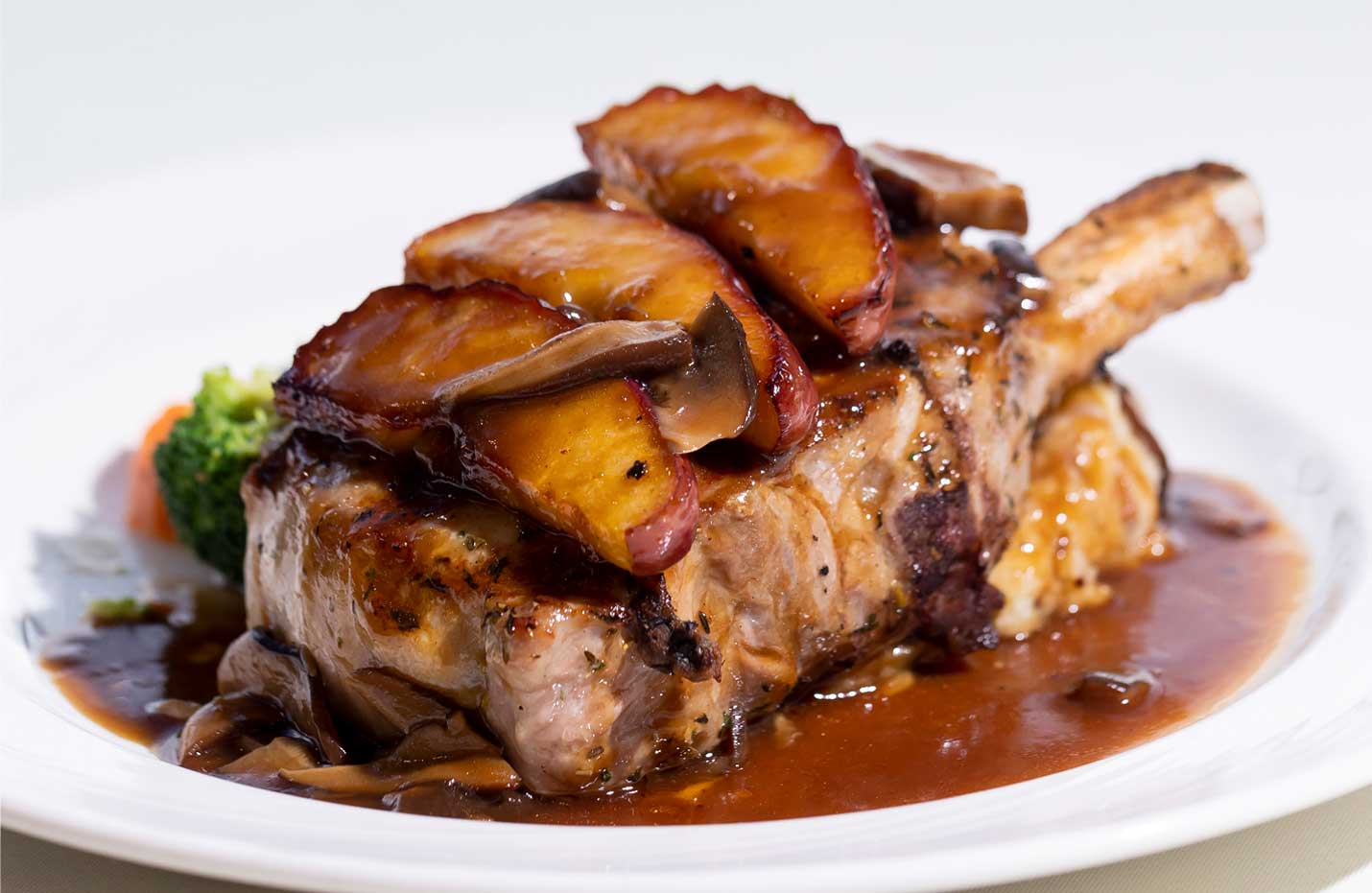 BERKSHIRE FRENCHED GRILLED PORK CHOP, Caramelized Apples with a Cider Demi
BELL & EVANS PAN SEARED CHICKEN CHAMPIGNON, Antibiotic & Hormone Free All Natural Airline Chicken Breast Stuffed with Mushrooms, Baby Spinach, Gruyere in a Champagne Sauce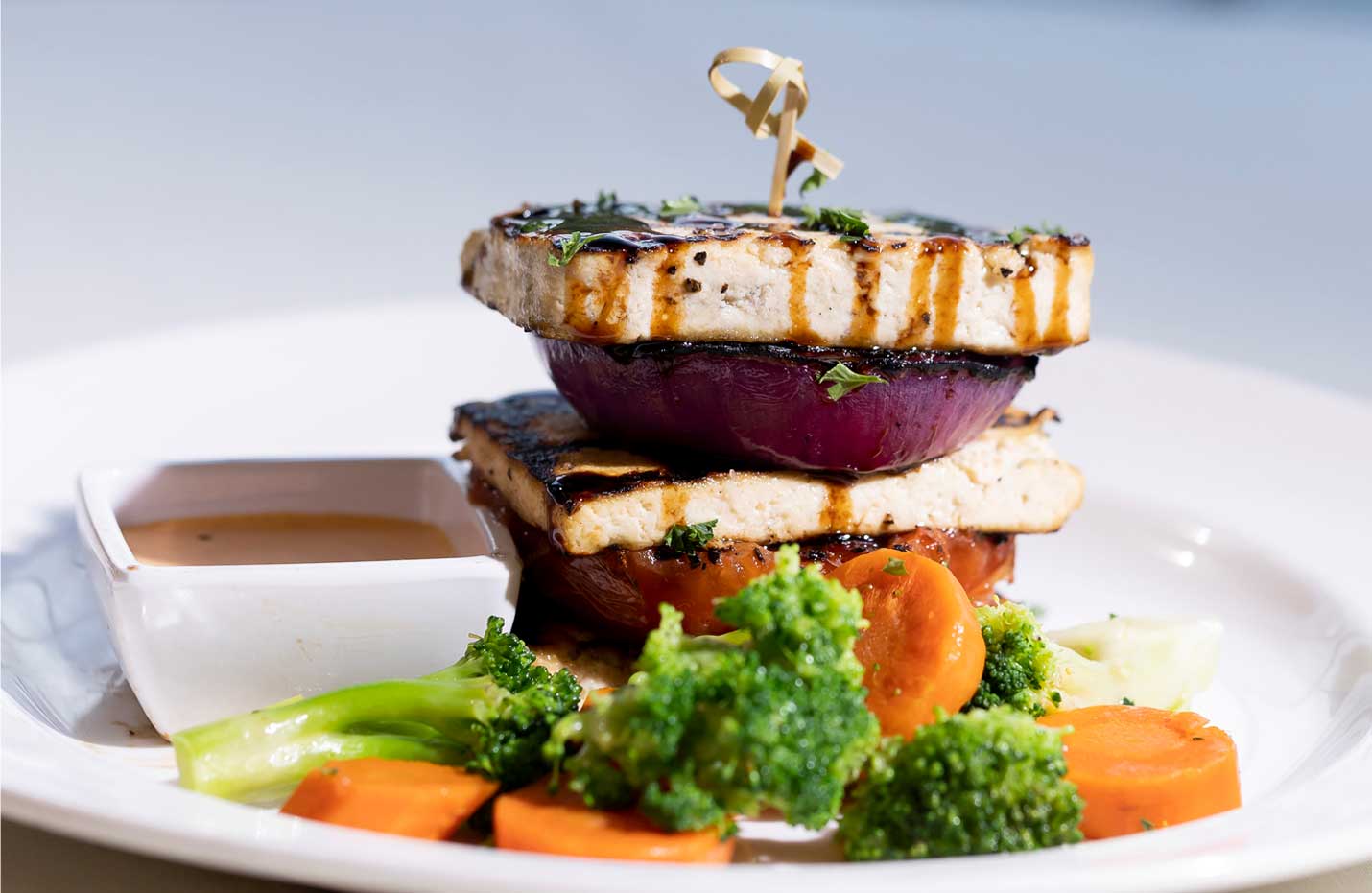 TOFU BEEF STEAK TOMATO TOWER, Natural Tofu, Grilled Red Onions, Zucchini, Beef Steak Tomatoes, Lemon Basil Balsamic Emulsion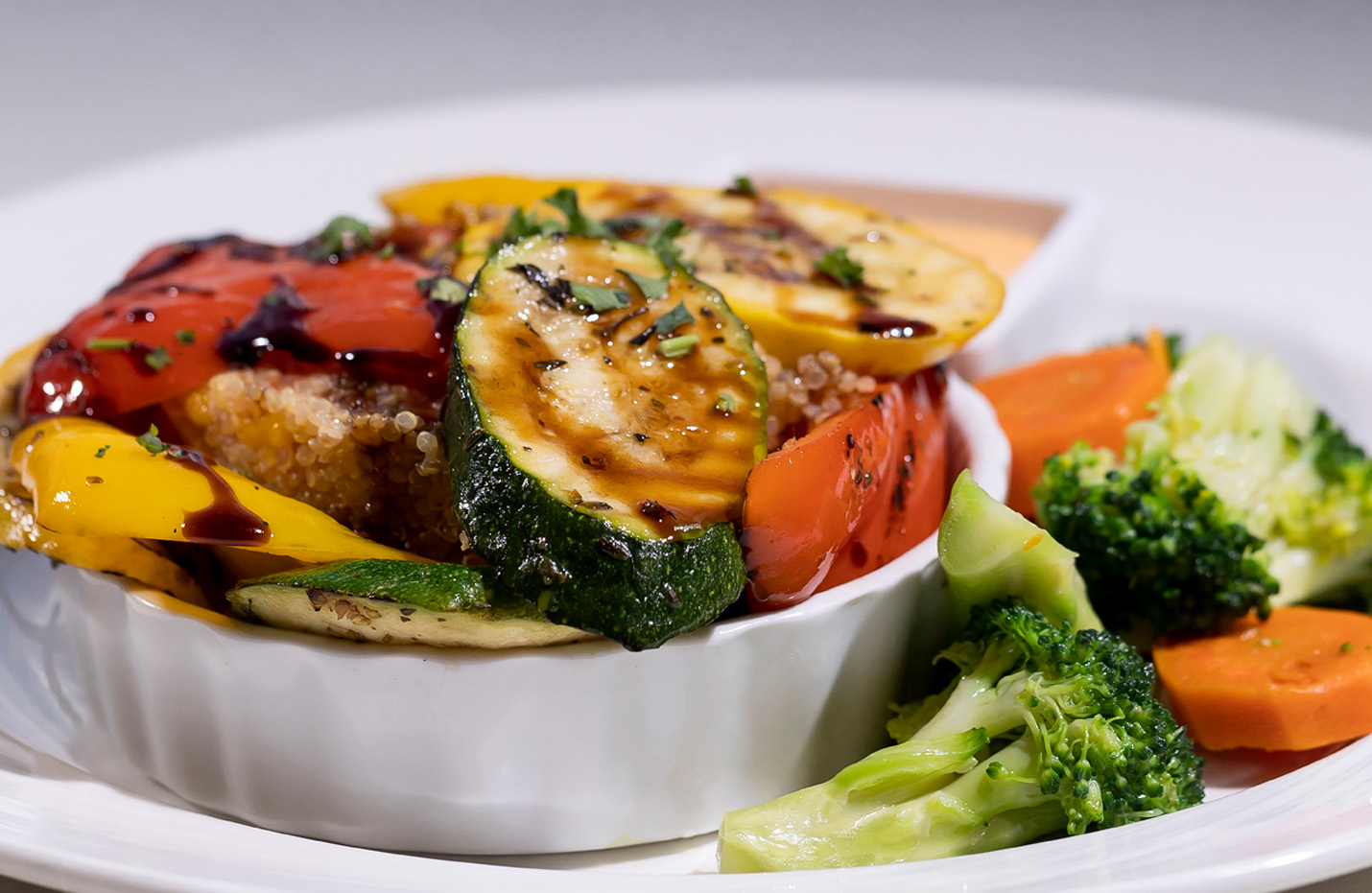 VEGETABLES & POACHED QUINOA, Roasted Vegetables, Poached Red Quinoa, Balsamic Glaze